An Introduction to Microsoft Power BI
If your organization is continuously growing but lacking to make informed decisions, you need an advanced system configuration i.e., Microsoft Power BI.
Introduction to Power BI
As the name suggests, Power BI is a power-packed business intelligence tool to make visual reports, gain business insights, and keep eyes on every business move to ensure growth and success. With MS Power BI, users can quickly make customized visual stats, reports, and analytics. Further, all such visualizations can be demonstrated on user dashboards.
Like custom reports, these dashboards can also be personalized as per specific user view or preference. Now every user within your organization can make decisions without waiting for weekly, fortnightly, or monthly reports that consume time and effort when created manually. All you need to connect your available data sources with your Power BI system to make powerful reports and analytics.
According to Statista, you can see, how Power BI and other different Business Intelligence tools are adopted by global business hubs for the period of 2014 to 2018.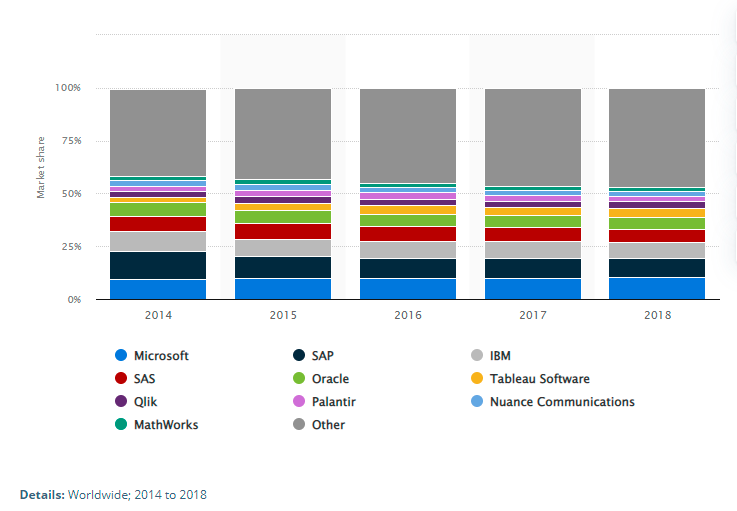 Even in the year 2018, Microsoft was recognized as a Leader in analytics and business intelligence platforms for 11 consecutive years by Gartner Magic Quadrant for analytics and business intelligence platforms.

Now, before moving ahead how you can leverage Power BI in your business, let's unwrap the history of Power BI first:
History Of Power BI
When we peep into the history of Power BI, the initial idea was given by the SQL Server Reporting Services Team of Microsoft. Later, the same concept was continued by Ron George by the year 2010 and given an identity name as Crescent. In the year 2011, Microsoft bundled it with SQL Server Codename Denali and allowed it for public download. By the end of 2013, Microsoft finally uncovered it as Power BI.
Designed with Excel-like navigation, Microsoft released it with accounting features and by the end of the year 2015, it had been released embedded with several advanced features to support enterprise-level data solutions. Their after, MS Power BI started gaining popularity and enterprises get their Power BI implementation done to improve their data-processing and reporting capabilities.
Overview of Power BI in Today's Age
How it Works
Power BI comes with a flexible option wherein enterprises can connect all available data sources to Power BI and can create powerful reports with customized visualizations. Users with coding expertise can also create their templates or visuals and can share them further with the people across their organization.
These visual reports can be represented on dashboards. Users can also customize their dashboards and can make hassle-free decisions instantly. Power BI is based on Excel-like features, thereby, users having advanced Excel expertise can effortlessly create visuals, reporting analytics, and other key metrics.
Flexible Implementation
Power BI is a kind of business suit that offers flexible implementation to the modern enterprises involved in the distinct business domain and specific operational practices. Businesses can avail of Power BI in three different versions:
Power BI Desktop
Power BI Mobile
Power BI as Service
Thus, if you want to create your reports on a desktop and want to drive your data using traditional on-premise systems, Power BI Desktop could be a quite suitable deal for your business.
Power BI Mobile enables users to stay updated with all the data moves, reports, and dashboards using mobile or tablets. Through these reports and visual representations, enterprises can effectively roll out their data such as sales, lead generation, and more.
Enterprises can also avail of Power BI as a Service. It works on a subscription model wherein users can simply drive data efficiency using browsers from anywhere, anytime, and using any device. They can even stay updated via real-time emails or notifications if they are lacking with inventory levels or need to improve their warehousing or supply chain pipeline needs.
Integration
If you are driving your data using existing CRM, Accounting, or analytics software; and are willing to implement this Microsoft's business suite too, you can avail of Power BI implementation without disturbing your existing system. Power BI makes it easy as it can seamlessly be integrated with your existing software and configured to work in a parallel manner.
Such integration can be made possible with your existing Microsoft applications including D365 Business Central, Dynamics NAV, Dynamics AX, or Dynamics CRM. Further, businesses can also integrate Power BI with any of their existing software solutions like Salesforce, QuickBooks, and Google Analytics, etc.
Personalization
Considering your different business practices, Power BI implementation can be customized to support your overall processes and distinct operational flow. Further, users can always personalize their dashboards and interfaces suited to their specific job roles and needs. They can create custom visual reporting metrics and analytics. These customized reporting visuals and key metrics can be demonstrated on their dashboards
Users familiar with JavaScript libraries can create their custom visuals. These visuals can be shared with other users in your organization so as everyone in your organization can make instant decisions and can remain productive.
Last Lines!
MS Power BI enables businesses to keep track of their ongoing business activities and manage them with full capacity. It helps enterprises with deep business insights and actionable data to make instant yet productive decisions. If you need more information or want to avail consultation to improve your system capabilities with Power BI, contact Dynamics Square, we are here to help.