10 Best ERP Systems for Small Businesses in 2023
The market is flooded with different popular ERP systems today to help business houses in their operations. While earlier, only the big business houses took the opportunity of getting help from these ERP systems, today, even the small business houses prefer to make use of these systems to have a smoother operation and grow in the market well.
While several top ERP systems are available that claim to be beneficial for business houses of all sizes, it is always a great idea to compare different options before getting the right one. If you wish to have a system for your small business, it is always better to go for those specifically designed for the small business to get the best services and facilities.
Not just it is sufficient to go through the features and the descriptions of a system, but it is also eminent to compare a few of them so that you can get the one that is perfect for your organization.
Here is a list of the best ERP systems to look at.
10 Best ERP Systems for Small Business 2023
While there are so many ERP options available, it is always a great idea to get the right ones specially designed for offering your small business house a lift. Here are the top 10 ERP options of the year 2023.
1. Microsoft Dynamics 365: Business Applications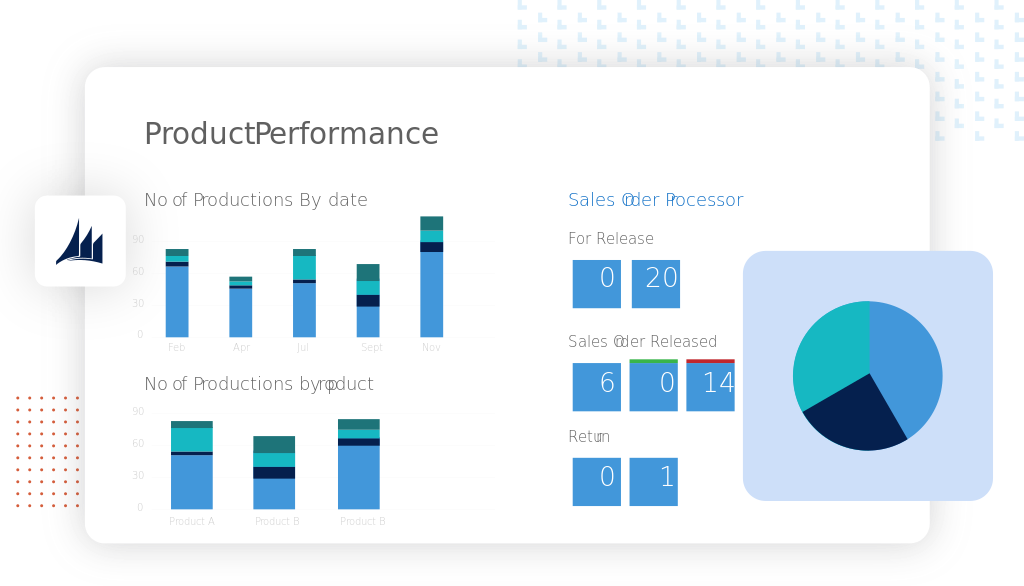 If you have been looking for a reliable ERP solution for your business organization, Microsoft ERP solution is another great name to trust upon. Microsoft is known to offer not just the usual ERP solutions but also something that is very much out of the box. It offers mainly the combined features and services of ERP along with CRM.

Microsoft Dynamics 365 helps in supporting your entire business by offering a number of benefits such as it easily integrates with your existing applications. 
As it is a cloud-based platform, it does not pressurize your server and also is available at a much cheaper price than any other advanced ERP solution that you might have thought of. Due to its integration and price benefits, on of it's product line - Dynamics 365 Business Central is highly popular among small to medium sized businesses. 
2. Oracle Netsuite
Oracle is known for various software options in different sectors and activities. Thus, the brand has also developed the best ERP solutions through the tool Oracle Netsuite. The platform offers a series of cloud-based applications.

These applications are from different niches such as ERP, HR, financial, and other professional services. Due to the amazing features and benefits of this platform, Oracle Netsuite is now being used in more than 200 different countries across the globe.
You can get a free trial of the platform initially, after which you can finally decide whether you should buy it or not.
3. SAP Business One
SAP Business One is specially designed for small business houses that can grow further. The platform allows you to avail all the important insights of your business at the right time so that you can make the right decisions too with ease and in real-time.

You can manage your business in a cost-efficient way using this platform. SAP helps in various sectors such as sales, purchasing, customer services, and many others.
It offers you to choose from different dashboard patterns so that you can keep control of your business in a much better way.
4. Acumatica
Acumatica is the top ERP solution for organizations that deal in digital activities. It is best for networks and mobiles, and you can easily integrate tools and applications of your choice.

Efficiency and flexibility are some of the eminent specialties of Acumatica. Moreover, when you use the platform, you can be sure that your business achieves smoother operations and better results.
5. Tally
Today, different business houses are coming up with diverse opportunities and purposes. Not every software can adjust according to such diversity of the firms.

Hence, one of the best ways is to get an option such as Tally compatible with all the possible types of business possibilities available. Tally is developed with the utmost care so that you do not have to waste much of your time on this software, and in fact, you can gain better results from it.
6. Sage Intacct
Sage Intacct offers operational and financial visibility of the business and that too in real-time. This helps you in boosting up the financial security of your firm. Also, the platform offers you the feature of automation that again helps you save costs by reducing labour.

There are so many sections that you can use through this platform: accounting, purchasing, financial consolidation, vendor management, cash management, inventory management, and many others.
The best thing is that you can also avail all these services through the cloud to avail the benefits of the cloud. Try out Sage Intacct for free on a trial basis before purchasing it.
7. Brightpearl
Brightpearl is specially designed for firms that deal in retail operations. It offers many features such as sales management, inventory management, warehouse management, fulfilment, planning, and many others.

Apart from offering so many features and activities, Brightpearl is also known to come up with several benefits such as being omnichannel in nature, being automated, and offering insights that are available in real-time for better management of all the operations.
8. Odoo ERP
Odoo ERP is an open-source platform, yet it is highly customizable according to your requirements and business opportunities. The platform is available to help out business houses from different industries and in different fields such as inventory, accounting, sales, CRM, manufacturing, etc.

The best part of Odoo is that it is feasible for organizations of any size and budget. This automated platform also offers the option of integrating different applications with ease. The platform's purpose is to keep all the operations and activities in a single place.
The platform is user-friendly and innovative and comes up with a lot of modules that you might need from time to time in using Odoo for your business.
9. SAP S/4HANA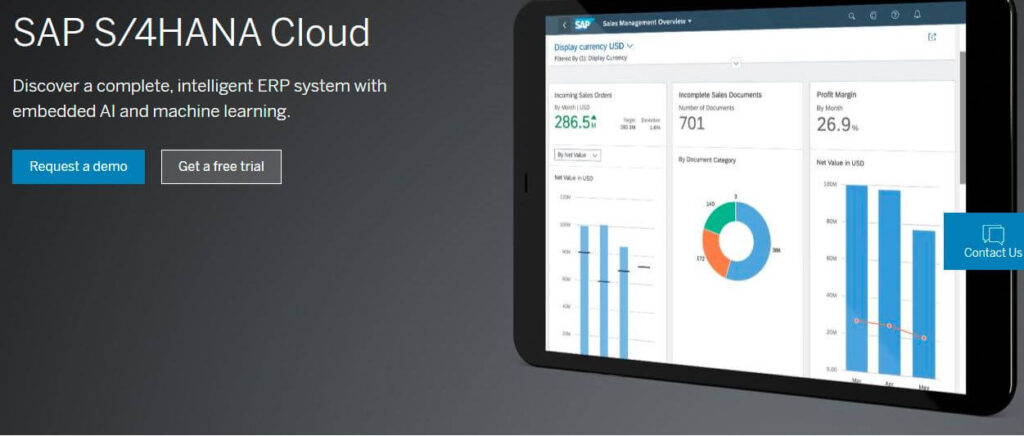 If you have been looking for an ERP tool that is intelligent to keep you ready to grab the opportunities of tomorrow, then you should check out SAP S/4HANA. The platform is known to offer your organization a better decision due to its capability of offering real-time insights and the option of computing in-memory.

The tool is not just concerned about the working of today but is also focused on the innovations of the coming days to get enhanced and efficient results. It is intelligent and also takes care of the convenience of the users.
Hence, it is available in three different options: on-premise devices, cloud, and hybrid. The tool also offers you a free trial of all the features and functions before you buy the tool.
10. SAP Business ByDesign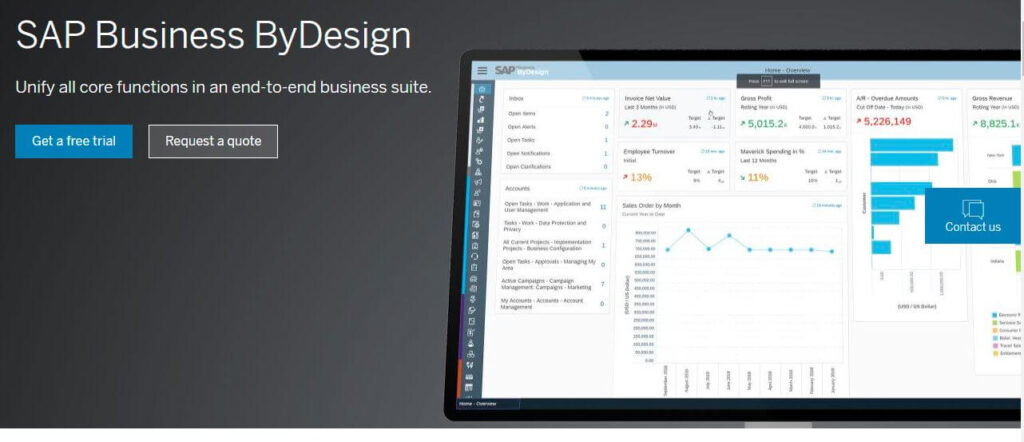 SAP Business ByDesign is software that runs on the cloud and is designed for small to average-sized business houses. It also is a boon for the subsidiary business firms. The platform works efficiently across several sectors such as human resources, finances, etc.

The tool is known among its users for its best beneficial features such as support, insights, and mobility. The tool supports as many as 12 languages, and hence quite popular in almost 144 countries across the globe.
Users can get a subscription to the tool monthly, and there are different packages available so that the user can choose the one that fulfils their requirements. The package consists of hosting, access to different applications, and unlimited storage options.
The platform comes with four updates in a year that the platform automatically offers.
Final Thoughts
Apart from these many ERP options, many more options are flooded in the market, such as Deskera Books, Syspro, Deltek Costpoint, etc. Whatever you get, it is essential to compare all the tools well to get a proper visualization of what is best for you.
Every platform is great in its way. Different tools come with different features and benefits that may be helpful to your organization in various ways. But it is you who will decide which tool is the best suitable for your operations and business.
Among many tools available, some are widely known, such as the big names of Microsoft ERP software. Many people prefer to trust such big names due to their popularity. Of course, it is always a great idea to trust well-recognized something.
But at the same time, you should also check out whether that particular tool is beneficial for your organization or not. You may find the right solutions in a tool that may not be well-known but is helpful for you.
You should always check out some of the other important factors, such as support in terms of necessity, the pricing of the tool, and similar elements that will determine your comfort while using the tool. If you're looking for a concrete ERP implementation for your business, contact Dynamics Square consultants to schedule a free demo.