Business Central vs QuickBooks: A Perfect Comparison for Growing Businesses
Business Central vs. QuickBooks is the talk of the town, as business owners are curious to compare their capabilities and find the perfect solution for their growing businesses. No doubt, both tools are good, but based on your unique business operations, you need to choose the right one.
QuickBooks is a popular accounting software for small businesses that offers great functionalities in terms of managing finances and accounting. Whereas Business Central is an all-in-one ERP solution capable of streamlining, managing, and monitoring not only the financial department but also other departments as well. These departments include sales, supply chain, inventory, and production.
In terms of QuickBooks vs. Business Central comparison, both tools offer sufficient functionalities for all businesses, whether they are small or large. Here, you need to understand the basic requirements of your business to choose a practical and effective solution. Before comparing the features, tools, and capabilities of Business Central and QuickBooks, we should learn a bit about them.
What is Dynamics 365 Business Central?
Microsoft Dynamics 365 Business Central is a 360-degree ERP (enterprise resource planning) solution specifically built to streamline the different processes of small and medium-sized businesses. Being one of the most popular ERP solutions by Microsoft, it offers exceptional capabilities and powerful performance to businesses at cost-effective pricing.
Previously known as Dynamics NAV (Navision), it comes embedded with AI, BI, and IoT to offer automation, resulting in enhanced efficiency and productivity. Business Central easily aligns its functionalities and capabilities to meet the requirements of different industries.
One of the best things about Business Central is the automation that helps the business eliminate data silos, minimize recurring tasks, and automate manual processes to achieve higher productivity. Business Central can be deployed on cloud, on-premises, or hybrid servers to meet the unique requirements of a business.

What is QuickBooks?
QuickBooks is a popular and effective accounting software specifically built for small and medium-sized businesses. It can automate most of the financial processes, whether it is automating the bookkeeping or streamlining the payroll process.
QuickBooks offers seamless accounting functionalities for growing businesses to help generate more revenue while optimizing all expenses. It offers different deployment options to align with business needs. It even allows you to move your data from a public server to a private server whenever required.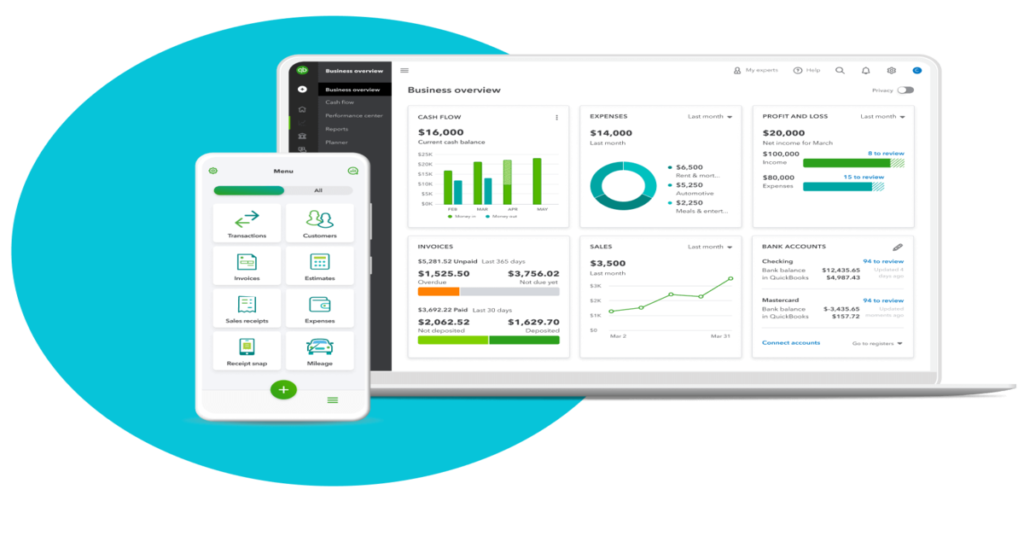 It comes in different versions to align with the needs of different businesses:

QuickBooks Online Plus
QuickBooks Enterprise
QuickBooks Premier
QuickBooks Accountant
Microsoft Dynamics 365 Business Central vs QuickBooks: Comparison Table
Our Microsoft Certified Business Central consultants have done research on this topic and come up with the comparison below between QuickBooks vs Microsoft Dynamics 365 Business Central.
| Parameter | QuickBooks | Business Central |
| --- | --- | --- |
| Complete ERP | No | Yes |
| Accounting | Yes, Basic | Yes, Advanced |
| Scalability | No | Yes, Advanced |
| Deployment | Cloud and On-premises | Cloud, on-premises, and Hybrid |
| Payroll Management | Yes, Add-on | Yes, Advanced |
| Reporting | Yes, Basic | Yes, Advanced |
| Data Security | No | Yes |
| Track Business Activity | Yes, Basic | Yes, Advanced |
| Easy of Use | Yes, Basic | Yes, Advanced |
| Pricing | Starts from $15/month | Starts from $8/month |
| Customization | No | Yes |
| Integration | Yes, Limited | Yes, Advanced |
| Multi-language Support | No | Yes (30+) |
| Customer Support | Yes, Basic | Yes, Advanced |


Dynamics 365 Business Central vs QuickBooks: Get the Descriptive Comparison
You can compare these solutions with different parameters to choose the perfect solution for your business. When you compare the features and capabilities of QuickBooks with Microsoft Dynamics 365 Business Central, you will find a difference.
QuickBooks does offer different user roles, but you cannot properly distribute the jobs within the team. Even so, this doesn't work smoothly when it comes to sharing data or information among different users with different roles.
With its limited audit trail capability, QuickBooks cannot let you view some of the essential records of user activities. It will not show real-time data related to login and logoff from the system. Also, it doesn't show you the name of the user who made the changes in master records, or sometimes it hides the updates in master record files. But, with Business Central, you will get information about each process and user activity in real time.
There are various sectors where QuickBooks has different results than Business Central. One such section is data analytics and reporting. QuickBooks offers limited ability to track, monitor, and report data insights that let you get poor customer insights.
However, with Microsoft Dynamics 365 Business Central, you can get seamless reporting along with proper data insights. To avail advanced reporting capabilities, you can integrate Power BI with Business Central to maximize data utilization.
In terms of flexibility and scalability, we recommend Dynamics 365 Business Central. Microsoft Dynamics Business Central is an immensely powerful, flexible, and scalable solution that aligns with the business processes to meet the changing market as well as customer demands.
Business Central works great when it comes to reaching a global audience and catering services to different regions around the world. Whereas QuickBooks caters to a smaller reach. QuickBooks's performance is adaptable when the number of users or processes increases.
Its performance starts to degrade until the load of processes becomes standard. In such a scenario, the inefficiency of QuickBooks may not operate at its peak efficiency which can impact business growth.
Which Business Solutions Suits you the Best?
Before choosing the best solution, you need to identify your business requirements. First, analyze your entire business, its processes, resources, assets, and needs, and predict future demands.
Once you have the data in your hands, choose the perfect solution that meets your business requirements.
To get more clarity while choosing between Dynamics 365 Business Central vs. QuickBooks, follow the below points.
If you want a good solution capable of dealing with the finance and accounting requirements of a business, choose QuickBooks.
If you want to streamline entire business operations while also availing advanced capabilities in finance, go with Microsoft Business Central.
There can be various scenarios where you may be facing difficulty analyzing your business requirements or choosing the best solution. In such a case, as a certified Microsoft Dynamics 365 partner, we are available to help you out.
Dynamics Square is one of the most cost-effective, trustworthy, and reliable Microsoft solutions partners that offer Dynamics 365 implementation, support, and upgrade services to all businesses. Also, we provide seamless Dynamics 365 support to the existing users of this powerful solution so that your business can grow all day and night regardless of any issues or errors.
In case of need, write us an email at harsh.nager@dynamicssquare.com or call us directly at +1 281 899 0865.