Chief Experience Officer (CXO) - The C-Suite Edit
Chief Experience Officer - Chief Customer Experience Officer + Chief Employee Experience Officer
Chief Experience Officer (CXO) has been identified as the forerunner in today's competitive business landscape. The value of experiences is how the C-suite values customer experience in the digital age.
Companies are constantly seeking new ways to gain a sustainable competitive advantage. One often overlooked solution is the integration of customer experience (CX) and employee experience (EX).
While the experience of the customer is the new marketing, it is incomplete without employee experience. When managed together, CX and EX can create a unique and powerful advantage for organizations. This is what is a Chief Experience Officer (CXO) all about.
In this article, we will explore what is chief experience officer, the meaning of CXO in business, and why it matters in the modern business world.
What is a CXO's Role?
A CXO is a senior executive who is in charge of managing and integrating an organization's employee and customer experiences. The Economist Intelligence Unit reports that 59% of businesses achieve faster turnover when they prioritize investments in the customer experience.
This position extends beyond the typical responsibilities of human resources or customer service. Instead, the CXO focuses on getting everyone in the company working together to provide outstanding experiences for both consumers and employees.
 "There is only one boss – the customer," Sam Walton
The chief executive officer (CXO) serves as a link between a company's employee- and customer-facing operations. They help company executives comprehend the requirements and driving forces of their staff and increase employees' comprehension of consumers. The CXO establishes a unified and comprehensive approach to business by concentrating value on people-centered functions.
Why Every Company Needs A CXO?
The CXO is the chief customer experience officer who is responsible for fostering a people-centered culture and making sure that employee and customer experiences are in line with the organization's overarching strategy and objectives.
In other words, the following are the key responsibility areas to include in chief experience officer job description.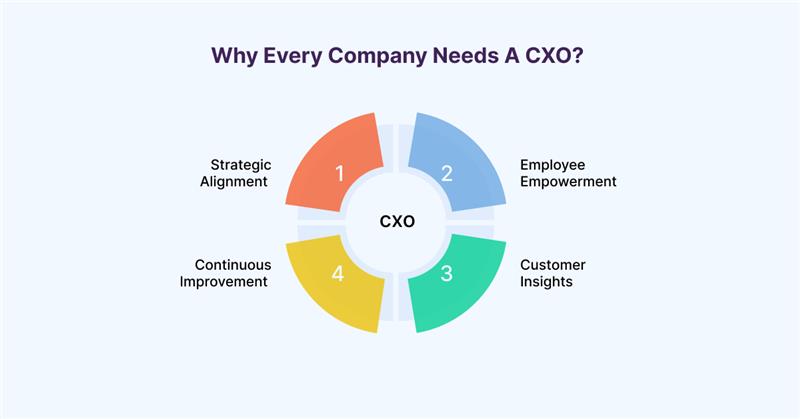 1. Strategic Alignment

The CXO collaborates closely with top management to match the company's overarching goals and objectives with customer and employee experience plans. The CXO makes sure that all decisions and efforts are focused on providing great experiences by including CX and EX into the strategic planning process.
2. Employee Empowerment
The CXO is essential in building an environment where employees feel empowered and engaged. They collaborate closely with HR and other pertinent departments to create projects and programmes that improve employee growth, well-being, and satisfaction. The CXO can boost employee engagement and productivity by fostering a favourable work environment.
Manage your workforce, maximize resource utilization, bring organizational agility, engage and onboard the right talent, leverage valuable AI insights to craft a better workspace with Dynamics 365 Human Resources.
3. Customer Insights
The CXO collects and evaluates customer feedback and insights in his or her capacity as the link between staff members and customers. The CXO can direct the organization in making data-driven decisions that improve the overall customer experience by understanding the demands, preferences, and pain points of the consumers.
4. Continuous Improvement
Implementing a culture of continuous improvement throughout the organization is the CXO's responsibility. They pinpoint areas that need improvement, put plans into action, and track the effects of these adjustments. The consumer and employee experiences are continually changing and getting better thanks to this iterative process.
Ready to boost your ROI? Get Dynamics 365 for Marketing Implementation today!!
Benefits of Chief Experience Officer
Companies can access a number of advantages that boost their long-term success by employing a CXO and merging CX and EX: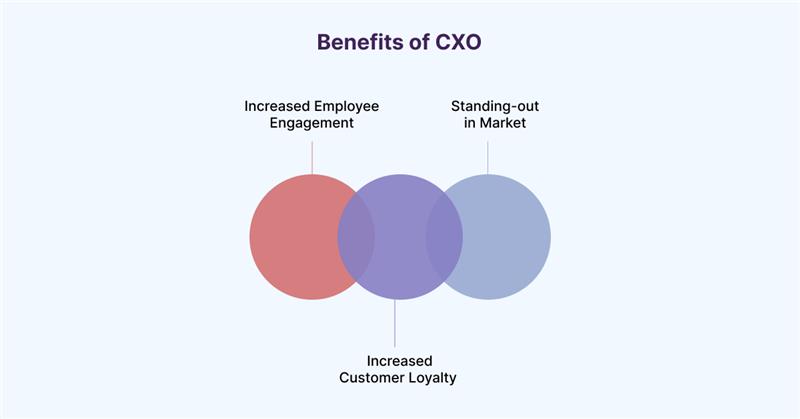 Increased Customer Loyalty
Customers are more inclined to stick with a business if they have a good experience with it. The CXO can boost customer loyalty, lower churn, and spur revenue growth by putting CX at the forefront of their efforts.
Increased Employee Engagement and Retention
Happy employees are more likely to stick with a company and give their best work. The CXO can foster a productive workplace culture and boost employee retention and productivity by giving EX top priority.
Delivering outstanding client experiences helps businesses stand out from the competition in the market. The CXO may assist organizations in standing out in the market and luring in new clients by merging CX and EX.
FAQs
1. What is the range of chief experience officer salary?
A Chief Experience Officer salary is approximately $169,6041 per year. In the United States, the basic salary for this position ranges from $177,337 to $230,5782, with an average of $202,608. Cash bonuses, commissions, tips, and profit sharing are all possible forms of additional compensation.
2. Who is a chief customer experience officer?
A chief customer experience officer works to improve client experiences. They act as a company's customer ambassador, fostering relationships with customers, enhancing customer service, and promoting corporate expansion.
3. What is a chief employee experience officer?
A chief employee experience officer is a senior executive who oversees how customers interact with an organization's goods and services as a whole.
Witness a Scalable Transformation With our Team
Experience real-time synchronization and flexibility with a consistent view across your business.