What does Dynamics 365 Offer for the Healthcare Industry?
"The most recent healthcare industry survey shows that healthcare is undergoing a several-fold transformation where consumers are playing a bigger role in decision-making. A patient-focused medical management software solution is Microsoft Dynamics 365 for Healthcare. It offers providers full, real-time insight into a patient's medical history, current case, and future trajectory."
According to the 2023 Business Leaders Outlook for Healthcare Industry, 91% of surveyed industry leaders believe their revenue and sales will stay the same or improve. Whereas 87% expect to maintain or increase their profits, despite the prediction of a recession this year.
Nevertheless, healthcare (including mental healthcare) is the top priority for employers and people across the globe. To accelerate this mission, Microsoft is investing heavily in creating stepped healthcare solutions that are designed and developed using emerging technologies like IoT (Internet of Things), AI/ML, cloud, AR/VR, and more.
The healthcare solutions from Microsoft like Dynamics 365 Healthcare includes capabilities for managing patient data, care plans, referrals, and more. These solutions are designed to help healthcare organizations streamline processes, improve patient care, and meet regulatory compliance requirements.
Moreover, Dynamics 365 is also helping healthcare device manufacturers improve their operations and efficiencies.
Now that you know what we're going to explore in this blog post, let's explore and discover how Microsoft Dynamics 365 is poised to bring positive changes to healthcare providers.
What is Microsoft Dynamics 365 for Healthcare?
Microsoft Dynamics 365 is a collection of customer relationship management (CRM) and enterprise resource planning (ERP) software programmes. Apart from this suite, there's separate technology for providers called Microsoft Cloud for Healthcare - a one-stop solution for nonprofits and the healthcare industry.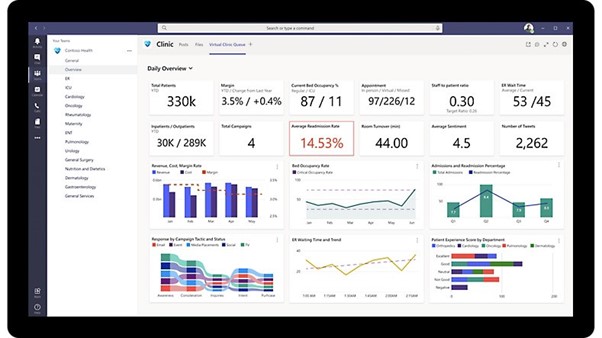 It is considerably simpler to manage an organization and provide patient care with Dynamics 365 Healthcare. It allows healthcare teams to combine care efforts across a patient's journey.

From scheduling appointments, managing medical records, processing claims, and conducting clinical trials, Dynamics 365 helps healthcare providers with a comprehensive and unified platform for healthcare providers to connect people, data, and processes.
What are the different modules in Dynamics 365 for the Healthcare Industry?
Microsoft Dynamics 365 for the healthcare industry can support various aspects of healthcare operations with different modules, such as:
1. Dynamics 365 for Healthcare Accelerator - a pre-built solution for the healthcare industry that extends the capabilities of Dynamics 365 by providing out-of-the-box functionality, data schemas, and workflows.
Note: Dynamics 365 for Healthcare Accelerator has been deprecated from Microsoft. It is recommended to use Microsoft Cloud for Healthcare instead.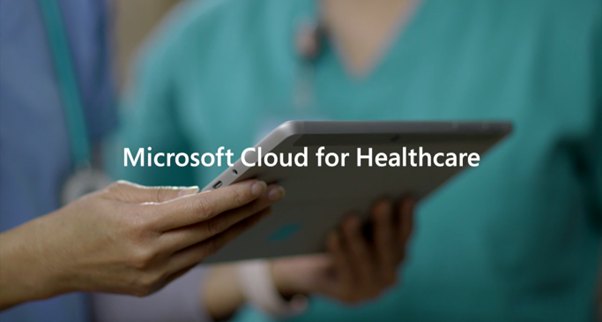 2. Dynamics 365 for Sales and Customer Service – both these modules are a sole source of truth and help you understand the buying journey of your customers so that you can provide them with what they are looking for.

Note: Microsoft Dynamics 365 Sales was popularly known as Dynamics CRM.
3. Dynamics 365 for Field Service - a unified solution to get close to your people who are out to serve others in different situations.

4. Dynamics 365 for Talent Acquisition - a cloud solution (now part of Dynamics 365 Finance) designed to help organizations attract, engage, and hire top talent.
5. Dynamics 365 for Finance and Operations - a robust finance and operations management solution that empowers you to gain deep financial visibility and makes your supply chain smart to deal with market changes.
Remember: Dynamics 365 Finance and Operations (D365 F&O) is now available as two separate modules: Dynamics 365 Finance and Dynamics 365 Supply Chain Management (combinedly known as D365 F&SCM).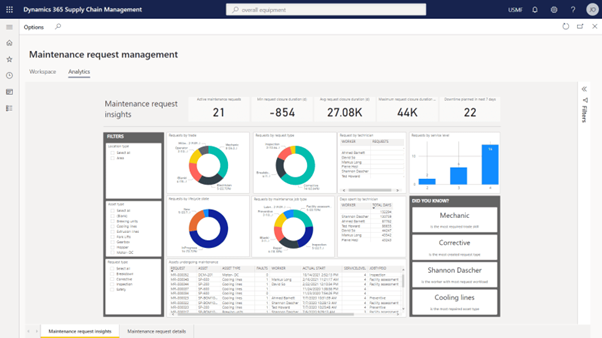 6. Dynamics 365 for Project Management (project service automation module) - a single cloud-powered system for managing projects, resources, and finances, enabling businesses to plan, execute, and track projects, manage resources, create estimates and quotes, schedule tasks, and monitor project performance and financials.
7. Dynamics 365 for Marketing (part of Dynamics 365 Customer Engagement) - a customer relationship management solution that includes AI-powered marketing automation functionality.
8. Dynamics 365 for Business Central - an all-in-one cloud-based ERP for small-sized organizations and large international groups. This solution is an upgraded version of Microsoft Dynamics NAV (or Navision).
What is Dynamics 365 Pricing for Healthcare Industry?

The pricing of Dynamics 365 for the healthcare industry can vary depending on several factors, such as the specific needs of healthcare providers, the size of the deployment, and the complexity of manufactured products.
Microsoft offers a range of pricing options, including per-user and per-app plans, as well as customizable enterprise plans that can be tailored to the specific requirements of healthcare organizations.
Here's the pricing and licensing model of Dynamics 365 for the Healthcare Industry:
Pricing Model for Dynamics 365 Business Central (specially designed ERP module for small and medium size enterprises) and others: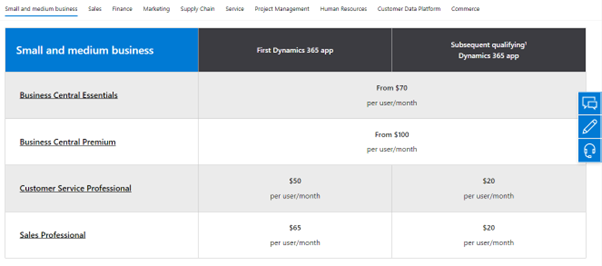 Pricing and Licensing Model for Dynamics 365 Supply Chain Management:


Dynamics 365 Finance Pricing Model:

Licensing and Pricing Model for Dynamics 365 Field Service, Customer Service, and Remote Assistant:
Microsoft Dynamics 365 Marketing Pricing and Licensing Model:

Microsoft Dynamics 365 Sales (Dynamics CRM) Pricing and Licensing Model: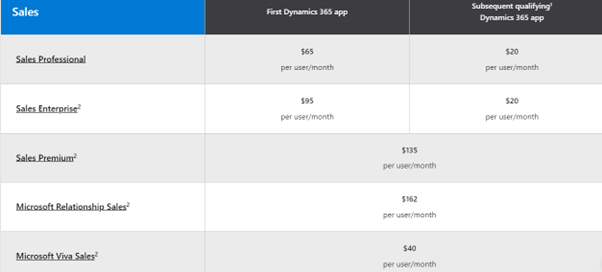 A Quick Note: There are associated costs for add-ons and integrations with other Microsoft products. Rest assured, the pricing model for Dynamics 365 aims to offer flexibility and scalability to meet the varying needs of different healthcare providers and healthcare device manufacturing companies.

Are there separate modules in Dynamics 365 for healthcare device manufacturers?
No. However, specific Microsoft Dynamics 365 Partner or Microsoft solution providers like Dynamics Square may offer custom-built, industry-specific modules on top of these standard Dynamics 365 modules (as already mentioned in the above pricing model for Dynamics 365 suite).
With a customized Dynamics 365 business management module, healthcare device manufacturers can streamline production processes, optimize inventory management, and gain real-time insights into their supply chains and financials.
Microsoft Dynamics 365 enables manufacturers to operate more efficiently and respond to market demands more quickly.
Dynamics 365 modules like Business Central and Dynamics 365 Supply Chain Management also provide the ability to:
Manage vendor relationships
Simplify regulatory compliance
Ensure product quality and safety
The modules in Dynamics ERP help healthcare device manufacturers meet the demands of the healthcare industry and deliver high-quality products to those in need.
Further, modules like Dynamics 365 Finance include human capital management capabilities, allowing recruiters and hiring managers to manage the candidate funnel, automate and streamline the hiring process, and collaborate effectively throughout the recruiting process.
Hence, one can say - "Microsoft has everything in its store that an organization needs."
How can the Healthcare Industry leverage Microsoft Dynamics 365 for key Advantages?
The Healthcare Industry can use Microsoft Dynamics 365 for streamlined operations, efficient patient care, secure data management, and improved collaboration within teams.
Since Dynamics 365 modules can be customized to meet the specific needs of the healthcare industry, there are some advantages that the healthcare industry can reap:
1. Electronic Medical Record (EMR) integration: Microsoft Dynamics 365 can integrate with EMR systems to provide a comprehensive view of a patient's medical history.
2. Patient Engagement: Healthcare providers can use Microsoft Dynamics 365 to engage with patients through digital channels, such as portals and apps, to provide education, support, and preventive care.
3. Service Management: Providers can also use Microsoft Dynamics 365 to manage patient services, such as appointment scheduling, transportation, and home healthcare.
4. Financial Management: Microsoft Dynamics 365 can help healthcare organizations manage financial processes, such as billing, revenue cycle management, and financial reporting.
5. Healthcare Device Manufacturing: Microsoft Dynamics 365 can provide top-notch capabilities for healthcare device manufacturing via product lifecycle management, Quality management (including regulatory compliance, and safety standards, including ISO, FDA, and other international standards), supply chain management, resource management, sales and marketing management, and more.
What are the Other Benefits of Deploying Dynamics 365 for Healthcare?
Microsoft Cloud for Healthcare, together with Dynamics 365 business management suite can be used to empower meaningful outcomes for the healthcare industry transformation journey. With tested and trusted capabilities of "AI-powered Microsoft solutions + Nuance" help you invent a better future.
Here are the other benefits of implementing Dynamics 365 for Healthcare:
Connected Patient Experience: People love personal healthcare. With Dynamics 365, providers can deliver personalized healthcare to their patients. It imparts positive experiences and creates a sense that patient data is protected and private at every point of care.
Empowers Health team Collaboration: Processes can be accelerated if there's a seamless collaboration among health team members and outside the team. Microsoft Dynamics 365 is a powerful tool to connect people, simplify workflows, and support teamwork.
Out-of-the-box Support for Healthcare Workforce: Nobody likes jumbled things. It hampers operations and creates hurdles in providing better care for those who need it. Healthcare providers can optimize time with patients and better manage the administrative burden on their shoulders.
Boost In Clinical Documentation: Accuracy and precision are two components of a better healthcare system. With Dynamics 365, healthcare organizations such as research labs, hospitals, academia, and global institutions can enable faster documentation that is correct, precise, responsive and has a virtual assistant for instant help.
Excellent Operational Insights: Data when visualized turns into readable and comprehensible information. Dynamics 365 comes with built-in data visualization capabilities, enabling organizations to take informed actions that help realize savings and achieve better outcomes.
Enhanced Security for Health Information: Data security is one of the top priorities of healthcare organizations. With the power of Azure Cloud, Dataverse, and Microsoft's homegrown security features, organizations can better protect their data and govern sensitive health data across their systems, devices, apps, and cloud services.