Microsoft Dynamics 365 CRM vs. Salesforce: Most Searched CRM Comparison (2023)
The CRM industry is so wide that it offers various customer management solutions for all industries, irrespective of their complexity. Among various such solutions, business owners are looking to find a superior solution comparing Microsoft Dynamics 365 CRM vs. Salesforce. Finding a perfect solution will let them invest their resources in revolutionizing the relationship between the customer and the business.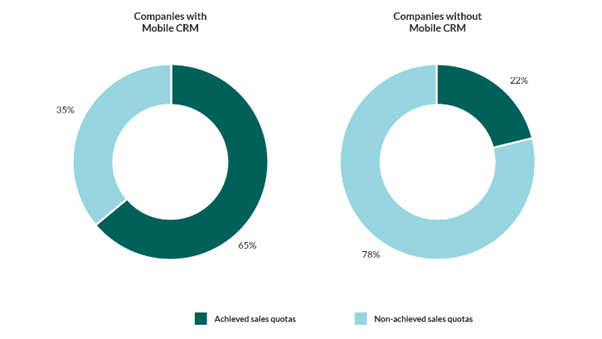 But let me tell you that following the Dynamics CRM vs Salesforce CRM comparison isn't simple at all. Both solutions are effective, and popular, and have captured the largest portion of the market with efficient features and capabilities.

It's like comparing two similar solutions. But, when you dig into the features and benefits of both solutions, you will find two totally different solutions.
You know what the real deal is: finding a superior solution based on your business requirements and the complexity of customer management operations.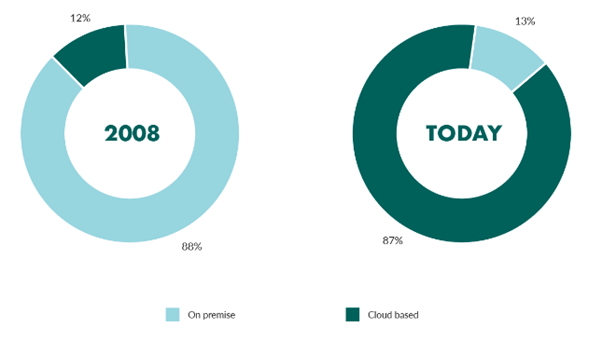 In this blog, you will get the answer to your query. But before diving deep into the Salesforce vs Dynamics 365 CRM comparison, let's understand the basic concepts of Microsoft Dynamics 365 CRM and Salesforce CRM.

What is Microsoft Dynamics 365 CRM?
Microsoft Dynamics 365 CRM, also known as Microsoft Dynamics CE (customer engagement), is a set of different applications that empower a business to manage, track, and streamline relationships with customers.
Being a cloud-based solution, Microsoft CRM offers exceptional capabilities to manage all customer requirements while also offering a smooth customer experience. It stores all the communications and interactions happening with the customer, irrespective of the medium, like chat, phone, or mail.

Once it collects the information, it displays the customer data on a single dashboard for the agents, enhancing the customer experience and satisfaction rate.
The best part of Dynamics 365 CRM is being a part of the Microsoft ecosystem, which lets the native applications integrate seamlessly to maximize the efforts a business invests in getting and retaining customers.
Dynamics 365 CRM Applications:
What is Salesforce?
Salesforce is a CRM with an updated and modern user interface that allows users to utilize all features with ease. It is also a cloud-based solution that enables the business to attract more global customers, find potential prospects, and close deals faster.
As per global market conditions, Salesforce is old and has more users when compared with Dynamics CRM. With cloud-based deployment, it allows the sales agents to track all customer activities during the customer journey, find customer details on a single screen, and find gaps in offering a customer experience.
Even, Salesforce empowers the business to run and track customer data, marketing campaigns, and sales data. Also, based on the collected data, it lets you offer a great customer experience with limited resources.
Microsoft Dynamics CRM vs. Salesforce: Get the Accurate Comparison Here

Check out the below Salesforce vs. Dynamics CRM table to understand the core differences between these two powerful CRM solutions.
| Parameter | Dynamics 365 CRM | Salesforce CRM |
| --- | --- | --- |
| Pricing | Starts from $65 /user/month | Starts from $70 /user/month |
| Ease of Use | Yes | Bit Complex |
| Customer Support | Yes, Advanced | Yes, Basic |
| Trial version | Yes (30 Days) | Yes |
| Responsive Interface | Yes, Access with Any Device | Yes |
| Integrations | Yes, Native with Microsoft Apps | Yes, Basic, and Complex |
| Customizations | Yes, fits all company | Yes, Complex through Coding |
| Marketing Automation | Yes, Advanced | Yes, Basic |
| Reporting Capabilities | Yes, Advanced with Power BI | Yes, Basic |
| Work Best for | Small, Medium, and Large Business | For Medium and Large Businesses |
Descriptive Comparison between Dynamics CRM and Salesforce
1. Pricing
Dynamics 365 CRM offers cost-effective pricing that suits different businesses of all sizes. The Microsoft Dynamics 365 Sales start from $65/user/month. To check out the pricing of all Dynamics 365 solutions, check out the official Microsoft Dynamics 365 CRM pricing page.
Salesforce CRM offers a bit more competitive pricing when compared to Microsoft CRM. Salesforce pricing starts at $25 USD/user/month, but this plan will let you analyze and view reports. To get more out of Salesforce, the professional plan of $75 USD/user/month would work great.
2. Ease of Use
We have been using Microsoft products and have become used to the interface and functionality. Dynamics 365 CRM offers similar functionality that lets the users use the solution with ease.
Salesforce CRM comes with a modern user interface, which is a bit complex to understand and use. Maybe, you will need a bit of training to utilize this solution properly.
3. Customer Support
Your Dynamics CRM implementation partner will take care of all your queries through chat, email, and phone. Also, you can get knowledge from the Microsoft official website and knowledge forum.
Salesforce offers customer support in two ways. One is through Salesforce itself, and another is with its implementation partner. But Salesforce doesn't offer on-site support to businesses. 
4. Accessing Trial
You can avail of the Dynamics 365 trial for a period of 30 days by going to the official Microsoft Dynamics 365 trial page. During this trial period, you can check out the exceptional capabilities of the Microsoft CRM solution.
Salesforce also offers a 30-day trial for all businesses. To get this, you can open the official Salesforce website and submit the form with your credentials to get the trial.
5. Seamless Integrations
With the Microsoft Dynamics 365 ecosystem, you can integrate native applications with Dynamics 365 CRM to enhance its capabilities based on your business requirements. Using APIs, you can integrate different solutions with just a click.
Salesforce doesn't have an ecosystem of different apps based on different business operations. So, to integrate different applications, you may need to get help from your Salesforce implementation partner.
6. Customizations
One of the best parts of a Dynamics 365 CRM implementation is the ability to customize the solution based on the uniqueness of the business operations. Your chosen D365 CRM consultant will understand your business and offer you the perfect solution.
Salesforce offers a modern and standard business feature to deal with the requirements of different businesses. However, you can customize it a bit, but not like Microsoft Dynamics CRM.
Microsoft Dynamics 365 CRM vs Salesforce – Which Suits you Better?
First, you need to understand your business, its different operations, and your ability to manage relationships with customers. Once you have the details, you need to decide whether you want to go with a standard CRM solution like Salesforce or customize the CRM based on your business demands and customer needs.
Let me help you a bit more.
To get a standard CRM solution, go with Salesforce.
And if you want to get fully customized CRM software aligned with your business needs, go with Dynamics 365 CRM.
To understand more about your business or find the perfect CRM solution, Get in touch with your Microsoft Dynamics 365 Partner like Dynamics Square or call us directly at +1 281 899 0865 to get instant help.