How to Generate Interactive Reports in Power BI?
Willing to learn to generate powerful yet interactive reports in Power BI to transform your data capabilities and improve your growth potential? This blog is purely focused on developing intuitive reporting visuals followed by a brief of Power BI, Power BI Reports, and Power BI Report Server.
What is Power BI?
Power BI is a complete business analytics tool whereby businesses can create visually immersive reports and key metrics. Power BI is designed to easily connect with your existing data sources to prepare visual reports and analytics that are vital to your business. Creating Power BI reporting rescues your harsh efforts you put in while manual reporting.
One can even create their own visuals using 'R' language. These personalized visuals can be shared further with other users in your organization. All the personalized visuals can be demonstrated on Power BI Dashboard. Whether your data exists on Excel spreadsheets, cloud, or your desktop, this business suite enables you to visualize the essential data and share the same with the people you want.
Power BI Elements
Power BI comprises several elements that work collaboratively. Here, we are revealing the three basic ones: 
Power BI Desktop – refers to the Windows application for Desktop 
Power BI Service – A cloud-based or SaaS (Software as a Service) 
Power BI Mobile – Power apps can be designed for Windows, iOS, and Android devices. 
What are Power BI Reports?
Leveraging your available datasets, Power BI lets you visualize meaningful analytical data or actionable insights. These actionable data or insights are known as Power BI reports which can be published and shared further to support data-driven decisions across your organization. Anyone who will have access to these visual reporting analytics can make on-spot yet productive decisions without waiting for manually built or time-consuming reports.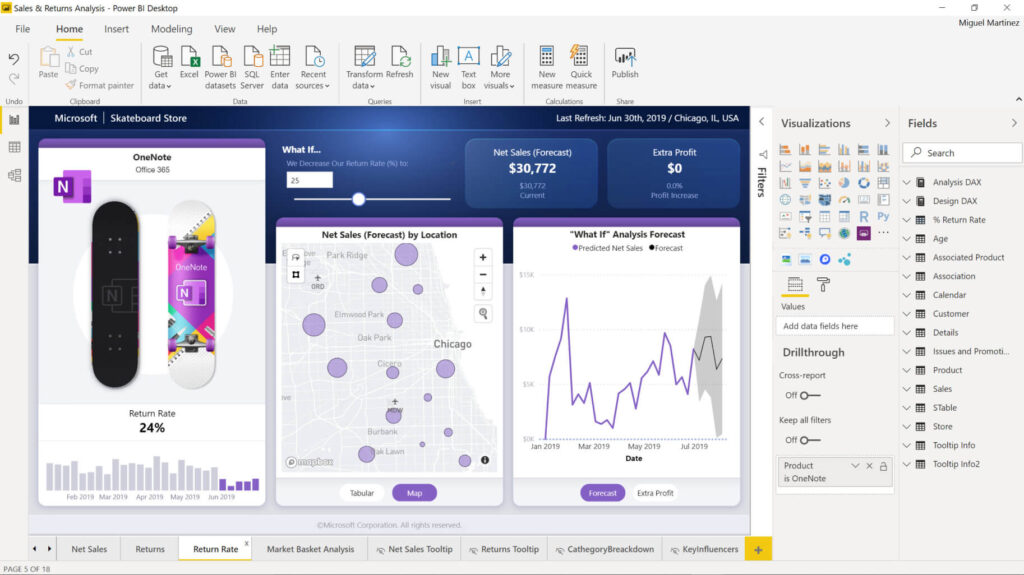 Role of Power BI Report Server in Power BI?

Power BI Report Server is an on-premise reporting solution facilitated with SQL server report service. It makes things easy while generating reports in Power BI today with the flexibility to move to the cloud tomorrow. It allows enterprises to design paginated reports as per their specific business needs. Enterprises can decide what to keep secure on their desktop and what to share on the cloud.
Thus, all your Power BI visualization and reporting analytics can be stored on the Power BI Report Server which can be shared further through any power platform out of the Power BI Service, Emails, or Power Apps.
Steps to Create Interactive Reports in Power BI
Connect Your Data from Available Sources
You may have data over multiple data sources or platforms. Power BI facilitates you to connect your data whether with Microsoft's data sources like Dynamics 365, MS Excel, SharePoint, Azure SQL DB or third-party sources like Salesforce, Google Analytics, QuickBooks, etc. Leveraging Power BI Desktop, you can develop in-depth actionable data to make better and faster decisions for the optimum range of business scenarios.
Data Preparation & Modeling
Power BI is bundled with powerful data modeling capabilities wherein using Power Query editor, users can prepare their data to ensure accurate reports and key analytics. Users familiar with MS Excel can seamlessly make effective use of Power Query to drive data preparation. To know how to prepare data and perform data modeling, read our recent blog on "How to clean and transform unstructured data in Power BI."
Make Use of Advanced Analytics

The next step is deep diving into your data and finding relevant patterns to generate actionable data. To prepare visual reports and analytics, you can make use of features such as measures, grouping, forecasting, clustering, etc. leveraging the DAX formula page, you can even grant full control to the advanced users. In case, if you are well-versed with the office, you can make more effective reports effortlessly.
Leverage AI & Deepen Your Actionable Data
In this step, you are required to explore your data capabilities, understand your data in-depth, find relevant patterns, and finally predict your data to support your business goals. Since Power BI is embedded with new AI capabilities. Thereby, it requires no typical coding; hence, actionable data or reporting visuals can be discovered seamlessly and effortlessly.
Start Creating Interactive Reports
Out of the available hundreds of data visuals in Power BI, users can choose interactive yet productive reporting visuals by utilizing the drag and drop features. Advanced users with some coding expertise can also design their own or personalized visuals using Power BI open-source custom visuals framework.
This framework is facilitated with custom theming, formatting, and layout tools that help to design personalized visuals better suited to your business domain or processes. Now, you are ready with your custom visuals to start making data-driven decisions in real-time.
Publish & Share Reports
Now, get ready to publish your reports from the Power BI desktop whether on cloud or on-premise depending on specific requirements. Start creating mobile-optimized reports facilitating your users with. You can also integrate your reports (created using Power BI desktop) with existing apps or platforms you need.
Summing Up!
To drive data-driven practices in your organization, seamless reporting flow makes everything easy, and generating reports in Power BI is as effortless as using MS Excel. Users can make stunning reporting visuals or can create actionable insights to support decision-making. Everyone in the organization can make result-driven decisions and collaboratively, it affects the overall growth of the organization.
To learn more about Power BI reporting or planning to avail of Power BI implementation, connect with Dynamics Square, we can help to improve your reporting capabilities across your organization.