Feature Update 2023 for Microsoft Power BI: Transform Your Data into Immediate Impact
As a Microsoft Power BI enthusiast at Dynamics Square, I am pleased to introduce you to Power BI, Microsoft's cloud-based business analytics service.
With the goal of empowering your business intelligence needs, Microsoft Power BI offers a suite of tools that enable you to collect, analyze, and visualize data from a wide range of sources, even from your Microsoft Dynamics 365 CRM.
Whether you are a small business owner or part of a large enterprise, Power BI is a Software-as-a-Service (SaaS) and provides you with a scalable, cost-effective solution that helps you make informed decisions based on real-time data.
With Microsoft Power BI, you can easily create customized dashboards and reports that allow you to gain insights into your data, identify trends, and monitor key performance indicators (KPIs) from one location.
Are you excited to see what's latest in Power BI in 2023?
The Power BI February 2023 feature update includes several new features and enhancements that make it easier for businesses to transform their data into actionable insights.
Moreover, with this popular business intelligence (BI) tool, you can connect to popular SaaS solutions like Salesforce and Microsoft Dynamics 365, making it an ideal tool for businesses that are already using these applications.
Let's see the key features of this new update in Microsoft Power BI. Continue reading for more details.
1. Data Analysis Expressions (DAX) Enhancements
One of the major highlights of the Microsoft Power BI February 2023 release is the enhancements to Data Analysis Expressions (DAX).
DAX is a powerful formula language that is used in Microsoft Power BI to create calculations and custom measures.
For the following examples, the data includes Sales Amount and gross national product (GNP) per capita: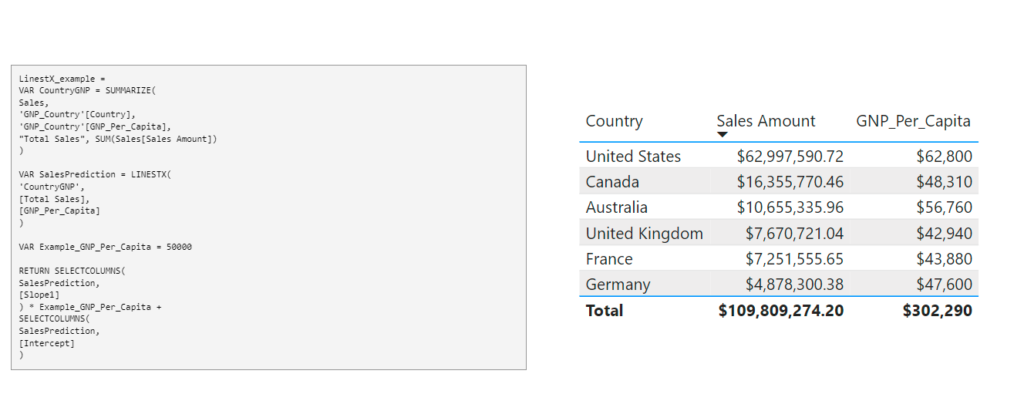 These new enhancements include support for time intelligence and new DAX functions, "LINEST" and "LINESTX" that make it easier to work with hierarchical data, as shown in the above image.

This makes it easier for users to perform complex calculations and analyze their data in real-time.
2. Visual Data Preparation
Power BI also introduces a new feature called "Visual Data Preparation."  
This feature allows users to prepare and clean their data directly within the visualization, without having to switch between the visualization and the data model.
With Visual Data Preparation, users can perform data cleansing, transformation, and wrangling tasks on their data, making it easier to prepare their data for analysis.

3. Data Flow Enhancements
Another major enhancement in the Microsoft Power BI February 2023 release is the improvements to Data Flows.
Data Flows is a cloud-based data preparation tool that lets users extract, transform, and load data from various sources.
The new enhancements include support for incremental refresh and enhanced support for data transformations. These enhancements make it easier for users to work with large datasets and perform data transformations more efficiently.

4. AI Capabilities
Microsoft Power BI also introduces new AI capabilities that make it easier for users to gain insights from their data. The new AI capabilities include an intelligent assistant that can help users to discover insights in their data and suggest new visuals to use in their reports.
The intelligent assistant can also help users to create natural language queries and get quick answers to their questions.

5. Enhanced Integration with Microsoft Teams
In addition to the new features and enhancements, Microsoft Power BI also introduces improved integration with Microsoft Teams.
With the new integration, users can share their Power BI reports and dashboards directly within Microsoft Teams channels, making it easier to collaborate with team members and share insights with others.

6. Improved Security and Compliance Features
Microsoft Power BI also introduces new security and compliance features that make it easier for businesses to protect their data.
The new features include support for Azure Active Directory authentication, which allows users to authenticate using their organizational credentials, and enhanced data protection features, such as sensitivity labels and data loss prevention policies.

What is the major advantage of using Power BI in 2023?
One of the major advantages of using Microsoft Power BI is its ability to connect to a wide range of data sources.
From Excel spreadsheets to cloud-based applications, Power BI allows you to collect data from virtually any source.
This makes it easier for you to integrate your data source and generate a comprehensive view of your operations.
In addition to its wide range of connectivity options, Power BI offers a suite of data analysis tools that enable you to analyze your data in real-time.
With features like Quick Insights, you can quickly generate data visualizations and uncover insights that may have gone unnoticed.
Moreover, with its powerful AI capabilities, Power BI can help you discover hidden patterns and relationships in your data.
Drill Down Donut PRO: Power BI Visuals by Zoom Charts
"Experience the power of Drill Down Donut PRO by ZoomCharts for Microsoft Power BI and take your data analysis to the next level."
Drill Down Donut PRO by ZoomCharts, is a powerful visualization tool for Microsoft Power BI that enables users to effortlessly explore and analyze data with visually appealing donut charts.
With this visualization tool, all chart interactions take place directly on the chart itself, providing an intuitive user experience that guides the eye and allows for easy data exploration.
Customize the look of your chart with advanced formatting options and choose from different chart types to create the perfect visualization for your data.

The adjustable "Others" slice feature lets you set the number of visible slices and group the rest, while the cross-chart filtering capability enables the chart to function as a filter for the rest of the report.
Additionally, Drill Down Donut PRO supports multi-level drill down, allowing you to drill down up to 9 levels for a deeper understanding of your data.
With full customization options for slices, labels, and the legend, you can create a chart that is uniquely tailored to your data. Plus, enjoy seamless navigation on both desktop and mobile devices, making it easy to explore your charts on any device.
Why Drill Down Donut PRO?
This tool is ideal for a variety of use cases, including sales and marketing, human resources, accounting and finance, and project management.
You can use it to measure campaign performance and research results in sales and marketing, track staff composition and performance data in human resources, conduct income, expense analysis, and manage billings and debtors in accounting and finance, and distribute risks and allocate resources in project management.
A couple of quick recaps of this article:
This article is about time-to-time feature updates for Power BI from Microsoft, which include -
Reporting:
String fields can be conditionally formatted.
Smart Narrative visual summary icon added.
Table and matrix images can be formatted to adjust width.
Power BI's base theme can now be updated.
Custom report themes can now be validated.
Text box visual indentation is now available.
New accessible report themes have been added.
Page navigator visual now allows visible pages to be customized.
Sensitivity labels now supported in PDF export from Desktop Preview.
Enhanced row-level security editor Preview now available.
Analytics:
Quick Create SDK (software development kit) is now available.
Modeling:
LINEST and LINESTX are new DAX functions available.
Data Connectivity:
Denodo (Connector Update) now available.
Digital Construction Works Insights (Connector Update) is now available.
Profisee (Connector Update) now available.
Cosmos DB V2 (Connector Update) now available.
Service:
A new 'Get Data' experience is now available in the Power BI Service (SaaS version of Power BI).
Compact view is now available.
Linked metrics are now available.
Follow metric now available.
Paginated Reports:
Paginated Reports Formatted Table authoring experience has been added.
Users can now create a Paginated Report from a datamart.
Capacity Planning for Paginated Reports is now available.
Embedded:
TypeScript support is now available in the playground developer sandbox.
Visualizations (third-party visuals):
Editor's pick of the quarter has been added.
New visuals are now available in AppSource.
Milestone Trend Analysis Chart by Nova Silva is now available.
Multiple Sparklines are now available.
Inforiver Charts 2.1 is now Microsoft Power BI certified.
accoPLANNING by Accobat is now available.
Drill Down Donut PRO by ZoomCharts is now available.
For more information about these features, be sure to check out our informative blog posts about Power BI here.
And if you're ready to get started with Drill Down Donut PRO? You can download it now from Microsoft AppSource or get in touch with Power BI experts at Dynamics Square.