Why Should Cable and Wire Manufacturers Choose Dynamics 365 ERP?
"Are you a manufacturer of wire and cable hoping to expand your company? Explore this blog and discover how a business-specific ERP from Microsoft Dynamics 365 can help unlock your full potential and achieve your goal faster."
Last year was a trainwreck! Also, the post covid-19 business landscape has changed significantly. This has negatively impacted small businesses that manufacture wire and cables for communication, electronics, and the electrical industry, but things are changing for good - starting from 2023 onwards.
These are not merely words but rather backed by recent market research.
According to the study, the global wire and cable market is projected to reach USD 22.6 billion by 2030 (growing at a CAGR of 7.2%; from the period 2022-2030):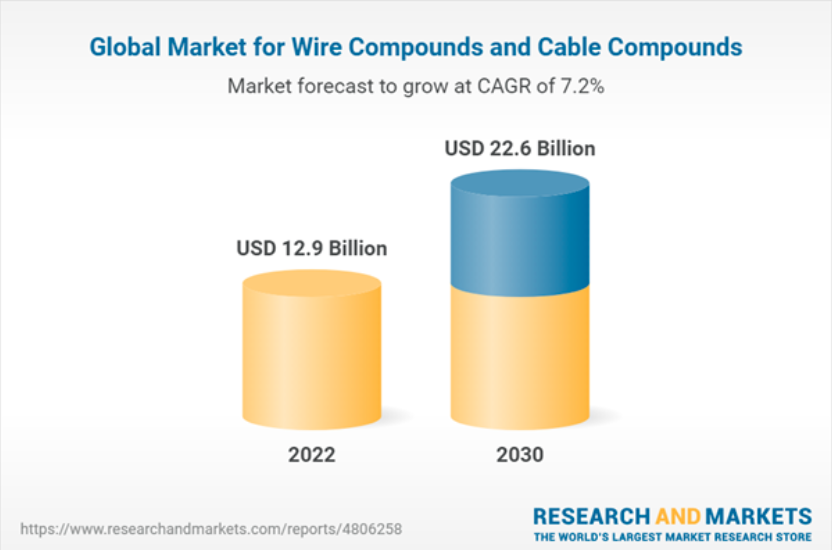 This prompts the wire and cable compound manufacturers to ramp up their operations and start making waves again.

But, there's always a question that arises - How?
This is where enterprise resource planning (ERP) enters the arena to rescue manufacturing companies. An ERP solution acts as a backbone for an organization's growth.
ERP software like Microsoft Dynamics 365 use the Microsoft cloud technology and help businesses with effective material requirements planning (MRP), making supply chain management intelligent, gaining deep financial visibility, and maximizing profitability.
Though many ERP variants are available in the market for business-specific needs. Dynamics 365 ERPs like Business Central and D365 F&SCM (or Dynamics 365 Finance & Operations can be the best fit for businesses.
Based on the size and complexities of your operations, Microsoft has a business-centric soltution in its store.

For instance, Microsoft Business Central (formerly, Dynamics NAV) is an all-in-one cloud-based ERP solution for Small and medium size businesses (SMBs) that encounter up to 500 transactions each day and need basic ERP fucntionality.
However, if your organization is growing at a rapid pace, crosses 10,000+, or deals with complex business operaitons, it is recommended to go for Dynamics 365 F&O (earlier, Dynamics AX).
Note: Dynamics 365 F&O is now available in two separate modules: Dynamics 365 Finance and Dynamics 365 Supply Chain Management.
What are the Challenges of Cable and Wire manufacturers?
Cable and wire manufacturers face several challenges, including:
1. Fluctuating raw material prices: The prices of raw materials used in cable and wire manufacturing, such as copper, aluminum, and plastics, can experience significant fluctuations, which can impact the profitability and pricing strategies of manufacturers.
2. Intense competition: The cable and wire manufacturing industry is highly competitive, with many manufacturers vying for the same customers. This can make it difficult for manufacturers to differentiate themselves and maintain profit margins.
3. Stringent regulatory requirements: Cable and wire manufacturers must adhere to strict regulatory requirements for product safety, quality, and environmental impact. Failure to comply can result in legal and financial repercussions.
4. Technological advancements: Emerging technologies such as IoT, IIoT (Industrial Internt of Things), artificial intelligence (AI), machine learning (ML), and mixed reality are changing the way cable and wire products are manufactured, which can require significant investments in research and development to stay ahead of the competition.
5. Supply Chain Disruptions: Any interruptions or delays in the supply chain can impact production schedules and customer orders, which can result in lost revenue and decreased customer satisfaction.
Can D365 ERP reduce the challenges faced by Cable and Wire manufacturers?
YES. Dynamics ERP can effectively help manufacturers improve their productivity by minimizing the challenges they face.
Microsoft Dynamics 365 is an innovative cloud-based ERP technology designed specifically for manufacturers of Wire and Cables, and related companies to address the aforementioned challenges.
Here are other potential reasons why wire and cable manufacturing companies need an industry-specific ERP system:
A modern ERP solution is a single, integrated ERP platform that can improve customer satisfaction by enabling faster and more accurate fulfillment of cable requirements to deal with intense competition.
Companies can reduce working capital and material losses through the optimization of logistics and production for length-based manufacturing.
An ERP solution makes the supply chain more transparent using technological advancements like IoT and AI, making it easier for companies to do business with customers and vendors.
Microsoft Dynamics 365 ERP offers full drum and reel management, helping companies save time and be more efficient in packaging and effectively minimize supply chain disruptions.
Reliable product data is easily accessible online throughout the company, making it easier for employees to do their jobs and for customers to place orders.
A business-specific ERP solution can provide a comprehensive non-ferrous metals module that reduces the risk of material price volatility (fluctuating raw material prices)
An ERP system helps optimize length allocation and cutting management to reduce material losses and improve efficiency.
Companies can optimize production output through length-based production planning and scheduling.
Dynamics 365 ERP connects all business processes with standard integrations to CableBuilder and CableMES, helping them meet stringent regulatory requirements and global compliance.
Wire and Cable manufacturers can transform their organization into Smart Cable Factories and Distribution Centers using evergreen Microsoft cloud technology for manufacturing.
How Can Dynamics Square Help Manufacturers Boost Their Productivity?
Microsoft ERP solutions offer cable and wire manufacturers a range of features and tools that can help them overcome the challenges they face.
With real-time inventory management, tailored pricing strategies, regulatory compliance tracking, R&D management, and supply chain visibility, Dynamics 365 ERPs like Microsoft Dynamics 365 Finance can help manufacturers meet their customers' needs, improve efficiency, and reduce costs.
By implementing Dynamics 365 ERP, cable and wire manufacturers can transform their operations, optimize their business processes, and stay competitive in a rapidly evolving industry.
In addition to that, partnering with a Dynamics 365 implementation partner like Dynamics Square can provide cable and wire manufacturers with expert guidance on selecting and optimizing the Dynamics 365 ERP solution.
We are a team of Dynamics 365 ERP enthusiasts who are always looking out to help businesses unlock their full potential with Dynamics 365 ERP. We can maximize ROI on their technology investment, enabling them to stay ahead of the competition in a rapidly changing industry.
You can contact us for customizations and integrations, comprehensive training, and ongoing support for your Dynamics ERP solutions.