Power BI Pricing and Licensing (Sep-2023): Free vs Pro vs Premium
Microsoft offers cost-effective and value-for-money Power BI pricing that makes it the top choice for smart business owners. Power BI is the most reliable data analytics solution available for small and large businesses. It is helping such businesses utilize the power of data using AI-driven technologies.
In this blog, we are going to discuss Power BI licensing and pricing to understand why it is a top choice for growing businesses. Also, we will compare its different plans and capabilities with each other. Before we deep dive into the pricing and compare the plans, let's understand a bit about Microsoft Power BI.
What is Power BI?
Microsoft Power BI is a powerful, interactive, and popular data analytics tool that empowers users to utilize the data at its best. Capable of collecting data from 500+ data sources, Power BI offers extensive data visualization of piles of data. It helps the users understand the treasure that's hidden beneath the huge collection of data.
It comes with embedded visual analytics, which can help you refine and visualize the data to supercharge business growth. Based on data visualization, you can make data-driven decisions to support your business's growth.
Embedded with AI (artificial intelligence) and BI (business intelligence), Power BI provides realistic data to empower you to make fast and informed decisions with ease. It enables you to build personalized reports and dashboards to enhance the quality of data visualization.
As per Gartner April 2023 Magic Quadrant for Analytics and Business Intelligence Platform, Microsoft is considered a leader based on Ability to Execute and Completeness of Vision.
When it comes to integration with Power BI, there is no match in the market, as you can connect any desired solution within minutes using APIs and direct connections. You can easily connect Power BI with Business Central ERP or a CRM solution to build a consistent flow of data.

Data security is generally a major concern for all business owners as data becomes an asset for modern organizations. With Microsoft, you don't need to be worried about data security as you are covered by the trust of Microsoft Azure.
Power BI is basically a cloud-based solution offering global connectivity to users. However, you can also deploy it using on-premises data servers (Power BI Report Server), making it adaptable for different business requirements.
As per the Forrester Wave report on Augmented Business Intelligence Platforms, Q2, 2023, Microsoft has achieved maximum numbers in the strategy category.
Source: Forrester Research
Microsoft Power BI Licensing
Microsoft offers a very flexible licensing plan for all businesses. Microsoft Power BI pricing is based on two subscription plans:
1. User-Based Licensing Plan
The Power BI licenses will be allotted based on the number of users. This plan will act like a shared access with shared capacity of resources based on server storage.
2. Capacity-Based Licensing Plan
You can avail yourself of a capacity-based licensing plan based on the capacity you are using. The capabilities and server strength cannot be shared with another user.
Now, the Power BI licensing plans are as follows:
Microsoft Power BI Desktop/Free
Power BI Free or Desktop version is freely available for all users to help them analyze and visualize the reports. It is a basic version that allows you to create reports and dashboards in PIX format. You can access this version with ease without even creating an account. You can download Power BI on your desktop and start data visualizations.
However, you cannot share the reports with other users or collaborate with other users with different licensing plans. Later, you can access the reports using a web browser or the Power BI Mobile app, but you will need to sign in to Power BI Desktop.
Since everything comes with it free of charge, you still need to get a Power BI Free license. Your Power BI Administrator can assign it to you, or you can get it yourself by signing up from the Microsoft website.
Price: Free
Some of its features are:
Create Reports
Data security
Encrypted data flow
Microsoft Power BI Pro offers all the features of Power BI Free and comes with a per-user licensing plan. The main difference when we do a comparison of Microsoft Power BI Free vs Power BI Pro is the ability to share the visualization in the form of reports.
You can access all types of sharing tools with this Power BI Pro licensing plan, other than the options that come with Power BI embedded licensing.
Based on the administrator's authorization, you can share the reports within or outside the organization. However, the other users must have a Power BI Pro or Premium license to access the shared reports and workspaces.
Another major benefit of purchasing the Pro license is the ability to integrate with other native and third-party applications to build a sustainable data flow. You can connect Power BI with Microsoft ERP or Office 365.
Price: $10 per user/month
Some of its features are:
All features of Power BI Free
Publish and share reports
Team collaboration on reports
1 GB Model Memory size
8/day Refresh Rate
10 GB/User storage (maximum)
Microsoft Power BI Premium
The Power BI Premium licensing plan is built for organizations with heavy usage of data analysis and visualization and larger numbers of users. This licensing plan comes in two options:
Microsoft Power BI Premium Per-User Licensing
This is a per-user-based licensing plan with more capabilities and features when we compare it with the Power BI Pro license. With this license, you will get more capabilities, server power, and a lot more features to help you build more interactive reports.
Price: $20 per user/month
Some of its features are:
All features of Power BI Pro
Comes with Advanced AI
Dataflows and Datamarts
XMLA endpoint read/write
100 GB Model Memory size
48/day Refresh Rate
100 TB total storage
Microsoft Power BI Premium Per Capacity Licensing
This license is specifically designed for organizations with a greater number of users. Such companies require dedicated space to deal with all data analytics requirements, which cannot be fulfilled with per-user licensing.
Price: $4,995 per capacity/month
Some of its features are:
You cannot publish and share reports outside the organization.
All features of Power BI Premium per user
All internal users can consume reports without any licensing
Access to all features of Microsoft Fabric.
400 GB Model Memory size
48/day Refresh Rate
| Features | Power BI Free | Power BI Pro | Premium – Per User | Premium – Per Capacity |
| --- | --- | --- | --- | --- |
| Create Reports | Yes | Yes | Yes | Yes |
| Data Security | Yes | Yes | Yes | Yes |
| Publish and Share | No | Yes | Yes | No |
| Team Collaboration | No | Yes | Yes | Yes |
| Advanced AI | No | No | Yes | Yes |
| Dataflows | No | No | Yes | Yes |
| Microsoft Fiber Access | No | No | No | Yes |
| Model Memory Size | 0 | 1 GB | 100 GB | 400 GB |
| Refresh Rate for Datasets | 0 | 8/Day | 48/Day | 48/Day |
| Maximum Storage | 0 | 10 GB/user | 100 TB | Coming Soon |
| Pricing | Free | $10 per user/month | $20 per user/month | $4,995 per capacity/month |
Microsoft Power BI Pricing
Microsoft is continuously changing the prices of its popular products after the release of new business solutions. Similarly, after the release of Microsoft Fabric, Power BI pricing is offered in five plans for all businesses.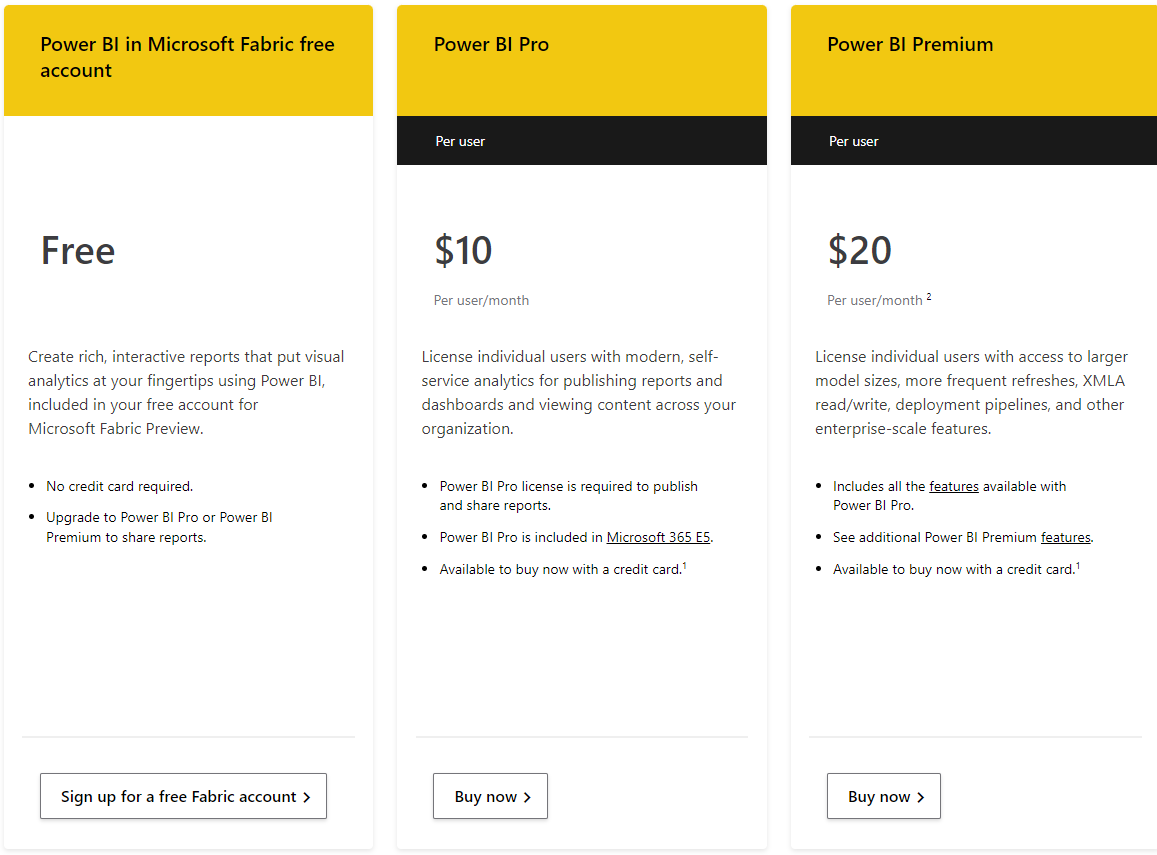 You can also access the Power BI trial of a month by signing up for free using Microsoft Power BI homepage.
How can Dynamics Square help you with Power BI Implementation?
Businesses have to deal with a lot of strange and unrefined data before processing it for data analytics. In such a scenario, you need to check the capabilities of Power BI to see whether it can be a perfect fit for your business or not.
In such a scenario, you can contact us to book a free Power BI Demo with our Microsoft-certified Power BI consultants. In this demo, we will test Power BI considering your business data to test its efficiency in all complex processes.
With our years of experience, we have gained positive feedback on all Power BI implementations we have done in the USA. Such businesses have managed to maximize profit, lower ROI, and minimize IT costs while making data-driven decisions in real time.
In case of need, feel free to write us a mail at harsh.nager@dynamicssquare.com, or you can call us directly at +1 281 899 0865 for instant support.