Top 15 ERP Systems for Small Businesses In 2023
"Are you a mid-sized company or a small and medium-sized business (SMB) looking to select the best enterprise resource planning (ERP) Solution? Do you need an ERP that can be the best fit and that too under budget, this blog is for you. Explore the list of the world's top 15 ERP systems for small businesses and choose the one right for you."
Today, the market is flooded with numerous ERP systems that help businesses of all sizes manage their critical operations. According to Statista, the global cloud ERP market is projected to be worth $40.5 billion by 2025 (growing at a CAGR of 13.6% from 2019 to 2025).
As small businesses grow and make noise by creating what was thought impossible, they look for an ERP system that can smoothly manage their operations, help them grow in the evolving market, and achieve their goal.
While several top ERP solutions are available that claim to benefit a small business, it is always a great idea to evaluate different options before investing in one. Right?
If so, here is a list of the top 15 ERP systems to look at in 2023:
1. Microsoft Dynamics 365 (Business Central)
Microsoft Dynamics 365 Business Applications is an advanced, cloud-based suite of ERP solutions.
Different modules under this suite include a variety of preconfigured processes and are hosted on Microsoft Azure (highly secure global cloud infrastructure), making it one of the best ERP solutions on the market.
For example: Dynamics 365 Business Central; designed and developed by Microsoft for small businesses.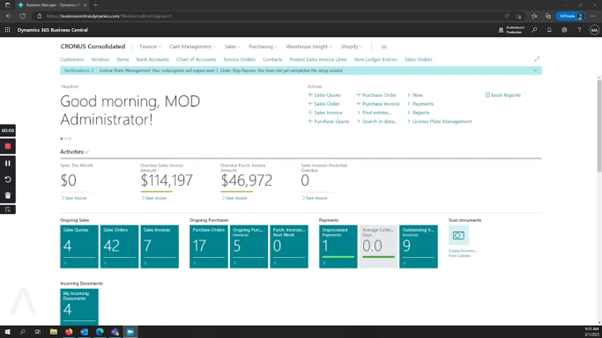 Features of Dynamics 365 Business Central ERP:

Provides access from the web, mobile devices, and desktops, while also offering tablet applications
Offers out-of-the-box integrations with other Microsoft products, such as Outlook, Excel, Word, SharePoint, OneNote, PowerPoint, Teams, and more
Includes AI-powered workflows, billing and accounting processes
Includes Power BI for real-time business intelligence (BI)
Dynamics 365 has its own Microsoft app source ecosystem for ISVs/add-ons/third-party applications like Mobile WMS for warehouse management
Provides customization tools such as APIs and VS Code
Excellent global risk compliance and regulations
Includes IoT integration framework for machine connectivity
Allows users to find what's required using its "Tell-Me Feature"
D365 Business Central (formerly Dynamics NAV) is a unified ERP platform for small businesses that have up to 500 transactions to manage per day
Businesses can use it for a single user to 300 (max)
Also Read: How to Get Started with Business Central FREE Trial?
Also Read: When Does Your Business Need ERP Software?
2. Epicor
Epicor is a leading cloud and on-premises ERP solutions provider for companies across industries.
This software vendor provides ERP solutions for distribution, retail, manufacturing, lumber, and building material.

Features of Epicor:
Provides embedded warehouse management functionality that enables paperless picking to be sent directly to scanners by order priority
Includes inventory management functionality with real-time information, integrated inventory receipts/purchase orders, and more
Provides analytics tools with real-time business intelligence
Includes real-time production and process monitoring for manufacturers
Provides quote and order management that includes product configurators, mobile sales, opportunity tracking, and more
3. Oracle NetSuite
Oracle NetSuite provides an integrated cloud-based business management solution for businesses of all sizes.
Features of Oracle NetSuite:
Provides pre-built role-based dashboards, reports, and key performance indicators (KPIs)
Provides a comprehensive set of applications for controlling accounting, order processing, inventory management, production, supply chain, and warehouse operations.
Includes functionality to provide you with a 360-degree view of your multiple subsidiaries, business units, and legal entities
Allows a phased implementation approach to suit business needs when required
Enables access to real-time financial, operational, and transactional data from across the organization
4. Sage Intacct
Sage is popular for its comprehensive accounting, payroll, and payment solutions that are seamlessly integrated. Their software caters to businesses, including start-ups and enterprises, across various industries.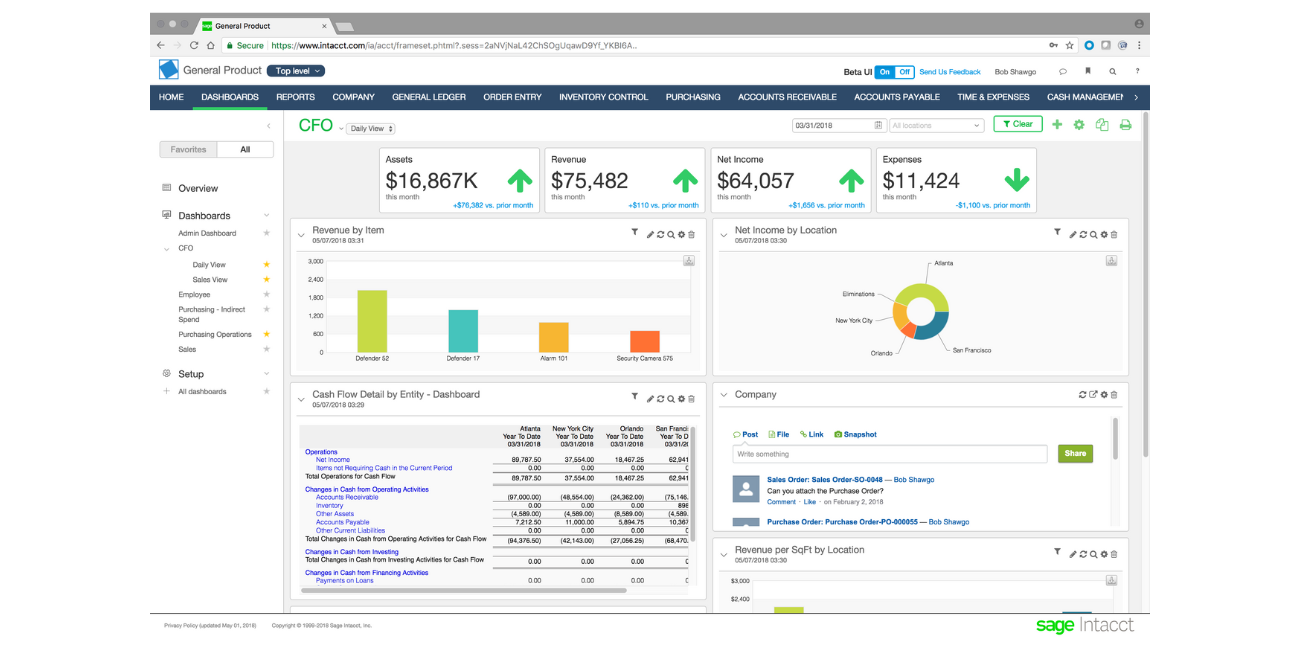 Features of Sage Intacct:

Provides cloud accounting, planning, HR, and payroll solutions to small and medium-sized businesses
Provides instant, predictive performance insights
Includes AI-powered processes and connected workflows for accounting, billing, source to pay, and more
Allows integration with Salesforce CRM
5. Infor
Infor is a comparatively new ERP software vendor than Microsoft and SAP. It provides industry-specific cloud-based ERP solutions. This software vendor caters to both SMBs and enterprise-level companies. Its multi-tenant cloud is securely hosted on AWS (Amazon Web Services) like Dynamics 365 is hosted on Azure.
Features of Infor ERP Cloud:
Provides connectivity both inside and outside the business, enabling visibility, collaboration, and predictive intelligence
Includes AI/ML models like Dynamics 365 to anticipate, recommend, and derive industry insights
Includes enterprise-grade business intelligence, reporting, and analytics
Enables hyper-scaling, automatic upgrades, and anywhere access to apps and data
Includes pre-built industry capabilities with prepackaged workflows, content, integrations, analytics, and more
6. SAP (S/4HANA Cloud and SAP Business ByDesign)
SAP offers business solutions to businesses operating in diverse industries and of all sizes. As a leading ERP vendor, it continues to invest in innovative technologies like IoT, AI, RPA, and cloud delivery.
Features of SAP S/4HANA:

Powered by AI and analytics and caters to the need of every business type
Enables intelligent process automation and end-to-end business practices
Includes embedded cybersecurity
Provides complete support for compliance with key regulations
Allows organizations to embed sustainability into their core business processes and operations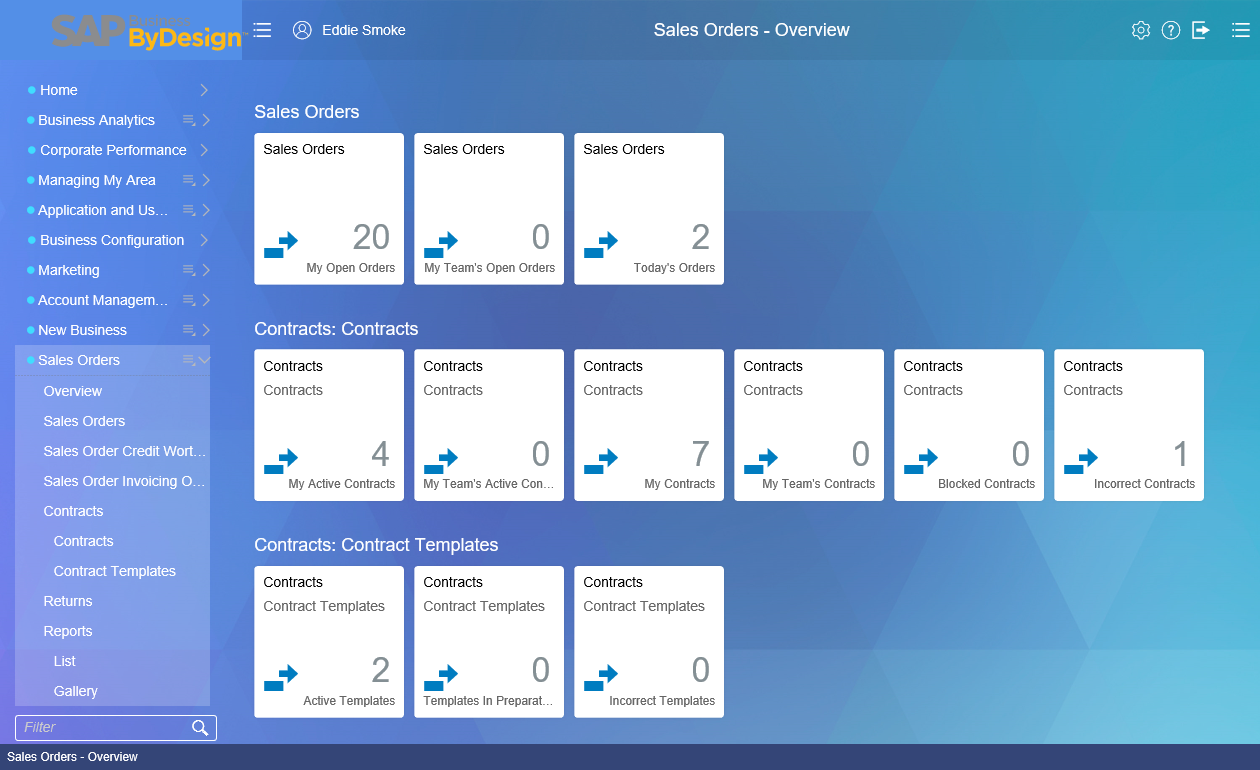 Features of SAP Business ByDesign:
Designed and developed for companies that have 50 to 1,500 employees
Provides functionality for HR, CRM, SCM, procurement, project management, and more
Includes ERP capabilities such as MRP and MES integration
Allows business process automation with a variety of pre-built business scenarios
7. Oracle Fusion Cloud for Supply Chain and Manufacturing
Oracle is one of the oldest and most popular software vendors that provides a set of core business management applications for businesses of all sizes.
Oracle Fusion Cloud ERP Features:

Allows social, mobile, and remote access
Provides blockchain and IoT capabilities that enable issue detection, multitier visibility, and insights across the supply network
Provides a comprehensive view of finance and operations; includes the modules for supply chain management, finance, human resources, and customer experience
Powered by AI and machine learning to help you identify anomalies, predict possible outcomes, and make recommendations
8. IFS Cloud
IFS ERP cloud is designed and developed by taking aerospace and defense into account. This ERP can be suitable for large enterprises, as well as mid-market-sized businesses.
Features of IFS Cloud:
Includes functionality for manufacturing, supply chain, finance, projects, procurement, HCM, CRM, and commerce
Makes use of emerging technologies such as artificial intelligence (AI), automation, augmented reality, and machine learning
Available to be deployed in the cloud, as a remote, or self-managed (on-premises) ERP model
9. Acumatica
Acumatica is the top ERP solution for organizations that strive for digital resilience. You may quickly integrate tools and applications of your choice, and it works best for networks and mobile devices.
Efficiency and flexibility are some of the eminent specialties of Acumatica. Moreover, when you use the platform, you can be sure that your business will achieve smoother operations and better results.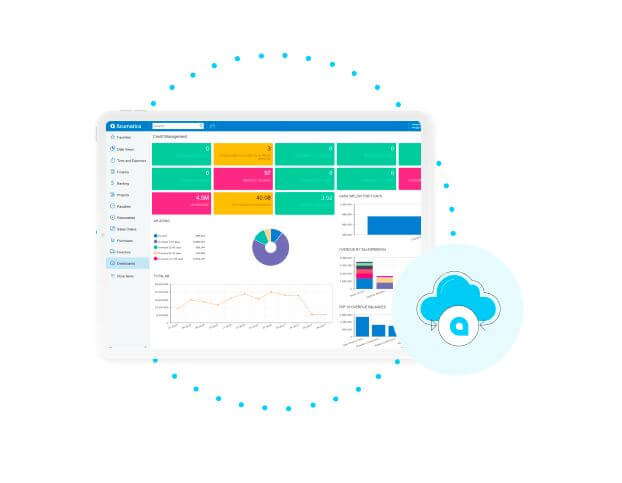 Features of Acumatica ERP:

This ERP is built for mobile and telework scenarios
It easily gets integrated with the collaboration tools of your choice for connected business
It is well recognised that Acumatica offers operational continuity, efficiency, and flexibility.
Best for growing small and mid-market organizations that are looking for a solution to future-proof their business
10. Odoo ERP
Odoo ERP is an open-source platform, yet it is highly customizable for business-centric requirements.
The platform is available to assist company establishments from various industries and in various fields, including production, inventory, accounting, sales, and CRM.
Features of Odoo ERP:
Feasible for organizations of any size and budget
This automated platform also offers the option of integrating different applications with ease
This ERP platform's purpose is to keep all the operations and activities in a single place
Odoo ERP is user-friendly and innovative and comes up with a lot of business management modules that you might need from time to time
67% of small businesses go for Odoo ERP when it comes to low-investment ERP solution
Odoo is a comprehensive open-source software solution that is fully customizable and includes hundreds of expertly designed business applications, all integrated and streamlined for excellent user experience (UX)
Also Read: Side-by-Side Comparison of Dynamics 365 Business Central and Odoo ERP
11. SYSPRO
SYSPRO is a global ERP software provider specializing in key manufacturing and distribution industries across a variety of sectors.
Features of SYSPRO ERP:
Offers an interactive web platform that makes it easier to do business with suppliers online.
Supports out-of-the-box integrations with Governance, Compliance, and Supply Chain Management Connectors
Includes forecast and advanced inventory optimization capabilities that allow businesses to create varying demand sources
Allows for the capturing management, and resolution of customer complaints
Includes a configurable pricing engine, giving, organizations flexibility in configuring pricing, breaks, and discounts
Allow for low-code or no-code configurations and include APIs that give access to organizations to connect to many different applications and solutions
Includes out-of-the-box portals for customer account management, supplier account management, and request for quotation
Provide manufacturers with options to implement this ERP in the cloud, on-premises, or both (hybrid). It should be noted that Microsoft also provides the same choices with no incurred costs.
12. SAP Business One
SAP Business One is specially designed for small business houses that can grow further. This cloud-based is like Microsoft Business Central.
The unified platform allows you to avail yourself of all the important insights of your business at the right time, helping you make informed decisions in real time.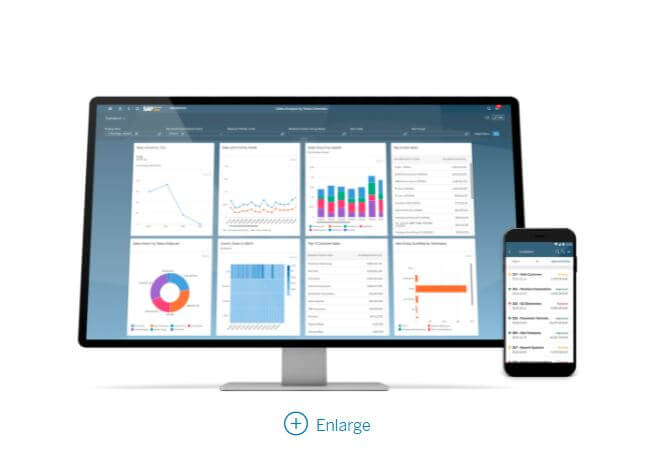 Features of SAP Business One:
SAP B1 is for small businesses and is designed to grow with you
AI-driven analytics helps you lower the cost of managing your business, from financials, purchasing, inventory, sales, and customer relationships to project management, operations, and HR
Businesses can get clear visibility and complete control over every aspect of their business
Provides a single view of your business in an instant with a flexible, modular, powerful, and simple user interface
Also Read: Comparison Between Dynamics 365 Business Central and SAP Business one
13. Tally Prime
Tally is one of the easy and oldest ERPs (introduced in 1986) that caters to small businesses. Tally is developed with the utmost care so that you do not have to waste much of your time on this software, and in fact, you can gain better results from it.
Features of Tally ERP:
Comprehensive accounting and finance management functionality
Includes inventory management with support for multiple units of measure
Management of accounts receivable and payable
Budget management and financial forecasting tools
Provides tools for payroll management and attendance tracking
Gets integrated with various bank systems for smooth transaction processing
Allows support for multiple languages and out-of-the-box configurability
Good for business reporting and analysis
Export of data in various formats (Excel) for external use
14. Certinia ERP Cloud
Certinia ERP is a customer-centric cloud-based software solution built on the Salesforce platform. It helps businesses streamline, simplify and automate their financial management processes in one place.
Features of Certinia Cloud ERP:

Accounting and Finance operations can be automated, and routine tasks can be completed in just a few clicks
This ERP software generates real-time financial analysis, modeling, and compliance reports.
Certinia supports subscription and usage billing, fixed-fee services, time and material (T&M), and other billing processes tailored to the customer's needs.
Revenue recognition and cost schedules can be automated for a faster period-end close.
The ERP analytics and reporting in Certinia provide unparalleled business insights to increase revenue and streamline operations.
Customers can get account information, make payments online, and track activity and balances with ERP Communities.
15. Workday
Workday ERP is a cloud-based enterprise resource planning software designed to help businesses manage their human resources, finance, and operations functions from a single platform.
Features of Workday ERP:
Human Capital Management (HCM) module enables businesses to manage their entire employee lifecycle, from recruitment to retirement or offboarding.
The Financial Management module provides visibility into the financial performance of the organization.
The Supply Chain Management module helps in managing procure-to-pay, inventory management, and order management processes.
Business intelligence and analytics tools provide insights into business performance, allowing real-time data-driven decisions.
Mobile accessibility allows employees to access the platform anytime, anywhere, and from any device.
Collaboration features help in streamlining communication processes and promote teamwork by enabling employees to work on projects together, share information, and resolve issues collectively.
Security and compliance features ensure the safety of business data while adhering to industry-specific regulations and compliances.
Customer support and services assist customers with training, customization, and implementation of the platform according to their specific business needs.
Tips To Select an ERP Software In 2023
Understand the Why around the need for an ERP
When assessing a client's needs for ERP software, we find that organizations often require a solution that unifies data across all functional areas to make decisions informed by reliable data.
However, sometimes simple changes in processes, such as inventory management, can lead to increased efficiency rather than new technology. If you find it difficult to find your why, contact our ERP consultants to sort things out.
Create an ERP Project Team
A successful ERP implementation requires a selection team that includes stakeholders from key functional areas who can articulate their processes and interactions with current systems.
The selection team should also have an executive sponsor to make important project decisions and a project manager with a thorough knowledge of the business operations.
Identify The Influencing Factors
Your business data is a reflection of your underlying business processes. While some of these processes are critical to your competitive advantage, others can slow down your efficiency and overall growth.
At Dynamics Square, we begin by identifying pain points in your existing processes to help improve efficiencies and find an appropriate solution to support your future goals.
When choosing from the many ERP options available in the market, it is important to compare the features and benefits to select the most suitable tool for your organization. While well-known names like SAP, Microsoft, and Sage may offer familiarity, you should also consider the specific benefits and support of each option.
Consulting with ERP experts, like Dynamics Square, can help in finding the right solution for your small business. Connect with us to get started.